When you notice something unusual with your wine cellar cooling unit, it is crucial to seek the help of a professional. At M&M Cellar Systems, we will help fix any issue with your wine refrigeration systems. The method will depend on the brand of your climate control unit that needs to be repaired. In this article, we will provide information on how our experts detect problems and the methods we use to repair CellarPro wine cooling systems.   
CellarPro Wine Cellar Cooling Unit Repair: What You Must Know 
For many years, M&M Cellar Systems has been providing repair and installation services for different brands of wine cellar cooling units. We always want our clients to have peace of mind about the safety of their prized collection.  
With extensive experience in HVAC refrigeration, our team understands the importance of regular maintenance of every wine cellar cooling unit. It will help detect the problem earlier and solve it to prevent a significant expense in the future. Moreover, it will increase the lifespan of the equipment and avoid the recurrence of refrigeration problems.    
We deal with the issues depending on the type and brand of the wine cellar refrigeration system. Moreover, the location of the unit will also affect the amount of repair to be done. Units installed outdoors are more prone to problems than those installed indoors.  
What are the Signs that Indicate Problems with Your Wine Cellar Cooling System?  
Do not hesitate to call an HVAC repair specialist when you see one or more of the following signs of malfunction or poor performance of your CellarPro refrigeration unit: 
The temperature in your wine cellar goes outside the normal range.

 

There is condensation forming on your glass door, windows, and in the walls. 

 

There are spoiled wines in your wine cellar.

 

You can hear unusual noise from your wine cellar cooling unit.

 

Your wine cellar refrigeration system breaks down.

 

Your cooling unit is not producing cold air.

 
You must seek the help of a professional when you see one or more of these signs. Choose a company that has a good reputation for providing wine cooling system repair services. At M&M Cellar Systems, we have proven our expertise, helping clients with refrigeration problems. 
When You Should Seek Help with Your CellarPro Wine Cellar Cooling Unit
External factors can affect the performance of your wine refrigeration system. The condensers are usually located outdoor, increasing the risk of damage. The coils hold the refrigerant in its liquid form, and the pressure on the gas is increased by the compressor. As the refrigerant changes into its liquid state, the heat it contains is released, which is then dispersed outdoors.  
When the heat transfer is interfered with by external factors, your wine cellar cooling unit will work hard to achieve the ideal wine storage conditions. When this happens, the components of your CellarPro wine refrigeration unit will degrade, requiring a repair service or replacement.  
Condensers located outdoors may be clogged due to debris, leaves, rocks, and mud splashed by rain during a storm. Your cooling unit will not be able to cool your wine cellar efficiently, which can lead to wine storage issues. You will have your climate control unit checked by a CellarPro repair expert. 
Another reason why your wine refrigeration system is not cooling your wine room is that the condenser might be blocked by animal hair. When pets go near the condenser, it can suck in their fur, resulting in malfunction.  
Can You Repair a CellarPro Wine Cooling Unit by Yourself?
You can fix the problem with your CellarPro wine cooling unit when the cause is minimal dirt or dust that clogs the gaps between the condenser coils. In this case, you can clean the unit yourself using a vacuum with a brush to loosen the dust or dirt.  
If your wine refrigeration unit has a filter and a mesh made of aluminum, just remove and wash it with soapy water. If the mesh is not made of aluminum, you will have to replace the filter designed specifically for CellarPro wine cooling systems. At M&M Cellar Systems, we use original filters that suit CellarPro wine refrigeration units. We recommend changing your filter every 3 to 6 months. The filter, which can be found at the rear of the equipment, can be removed by pulling it out to either side. If cleaning the filter does not work, you can contact one of our CellarPro cooling unit repair specialists.  
How to Prevent Serious Problems with Your CellarPro Wine Cellar Cooling System 
Keep in mind that although your wine cellar was constructed the right way and your climate control system was installed correctly, your cooling unit may still experience some problems along the way. Early detection of problems with your wine cooling unit offers many benefits. It will prevent a costly expense for the repair or replacement of your refrigeration system.   
Our team offers regular preventive maintenance and service plans for your CellarPro wine cooling unit and other brands as well. These include checking all the moving parts, checking for leaks, and lubricating the components. Availing yourself of routine checkups through a maintenance plan will prevent premature breakdowns and costly damages.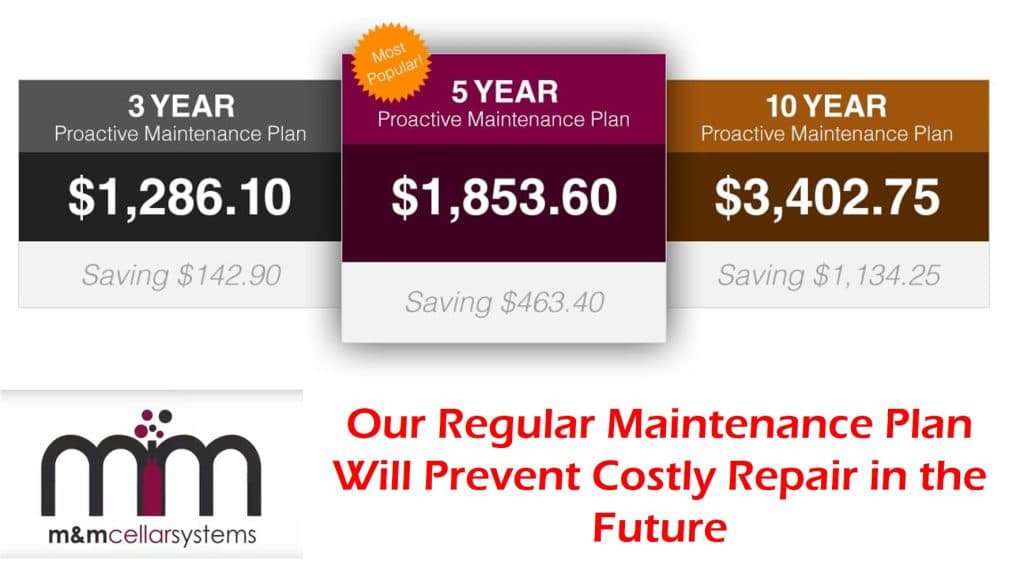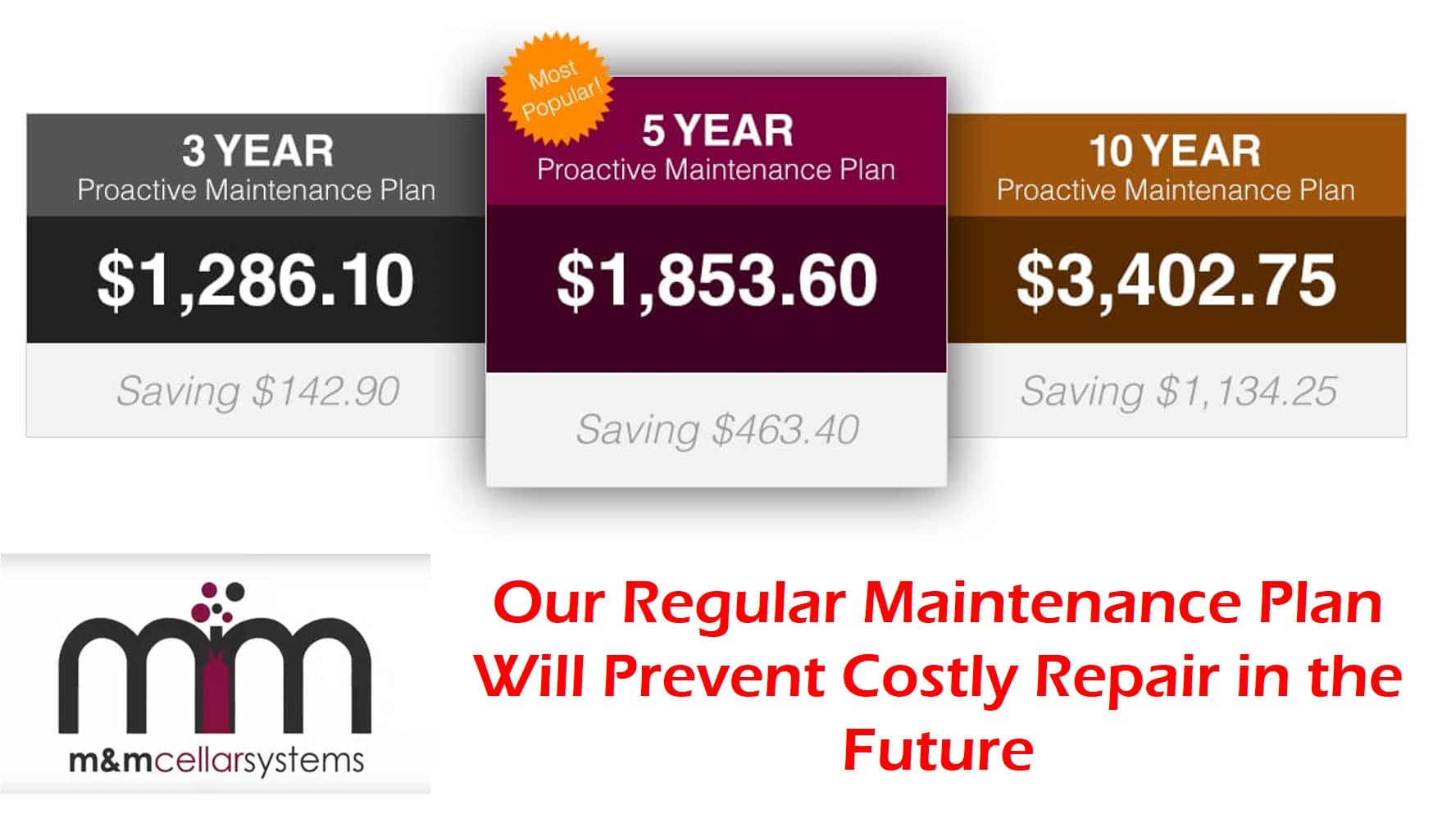 Let Our CellarPro Wine Cellar Cooling Unit repair Experts Help You
 M&M Cellar Systems is one of the trusted companies that offer professional HVAC services. We will repair any problem with your CellarPro wine cooling unit and offer a maintenance plan.  
If you need help or want to talk to one of our specialists, please call us at +1 (323) 578-3330.