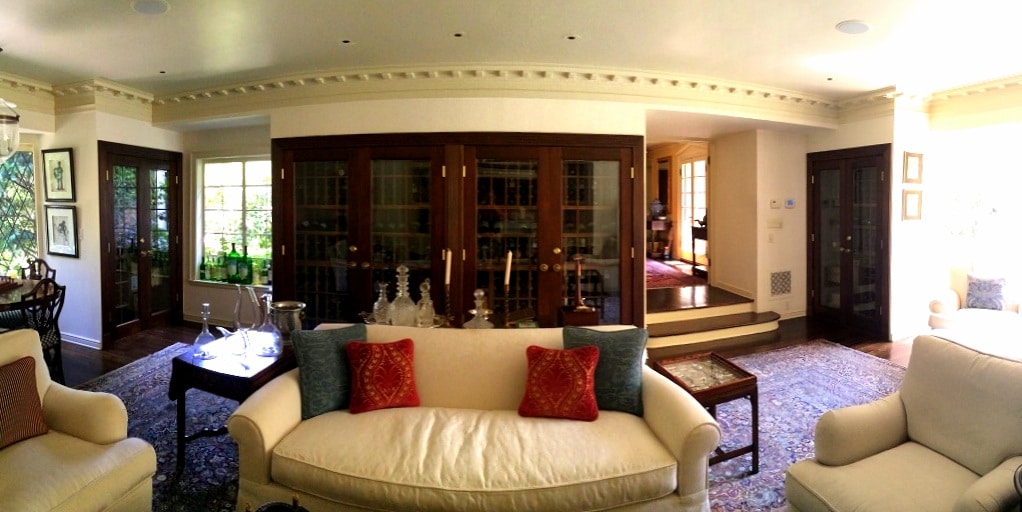 Refrigeration systems in custom wine cabinets need to be the right quality, and they should be sized correctly.  Skimping on the cooling system may not be the smartest thing to do, as this cooling systems project demonstrates. See this amazing repair and re-installation project here in Beverly Hills, Los Angeles.
Wine Cellar Cooling Installation Project
Beverly Hills wine cabinet owners found themselves in a dilemma. The cooling system that existed in their home wine storage system was found to be incorrectly sized, and did not provide the right cooling capacity for the climate controlled wine cabinet.
In addition, there was a leak in the cooling system's evaporator coil; again, not a good situation.
These issues were critical and required that they be addressed quickly in order to prevent damage to the entire wine collection. They turned to us at M&M Cellar Systems to fix this construction mistake.
Why Choose The Wine Cooling Experts
We at M&M Cellar Systems specialize in the design and installation of wine cellar climate control systems and wine cabinet cooling.  We have many years of experience in installing HVAC refrigeration and heating, as well as in providing service and maintenance of cooling solutions specifically for wine storage systems. These Beverly Hills homeowners turned to us in this critical time for their wine cabinet unit. They needed technicians who would fix the mistakes of previous contractors.
We often find ourselves in this situation, called on to undo the mistakes of other construction companies. The truth is that many builders don't understand the nuances of wine cellar installation and servicing. We only build and install wine cellar cooling systems. We focus on this in order to be the best in the industry, which many Los Angeles and Orange County residents have discovered when working with us.
Replacing the Existing Cooling System
M & M Cellar Systems had to replace the existing cooling system with a unit that was specially designed for cooling wine cellar cabinets and wine closets.  These kinds of cooling systems are engineered to provide the proper circulation of cool air in restricted and narrow storage spaces.
The work was done by Mario Morales, owner and lead technician and owner at M&M.
The first step was removing the old refrigeration equipment, which was located in a mechanical room.
The second step was installing the new cooling system.
Thirdly, Refrigerant lines were then welded in place.  Refrigeration lines consist of a set of piping or tubing that are used to move liquid and gaseous coolant or refrigerant to the wine cabinets.
Wine Cabinets Built for Effective Wine Cooling
Bottles of wines are incredibly sensitive to external environmental influences.  Thus, wines require a storage environment that provides consistent temperature and humidity levels, with minimal lighting, and which is devoid of noise and vibration.
Storing wines in a properly constructed custom wine room allows them to age slowly, and to develop to their full potential.
If there is not enough space in your home to install a full size wine room, custom refrigerated wine cabinets are the best wine storage alternative for proper cooling.  These wine storage options are purpose built to maintain the desired climate conditions for aging and storing wines.
More Important Element of Your Wine Cabinet
The cooling system is the most important component in your wine cellar cabinets.  When deciding on a refrigerated wine cabinet, make sure that the cooling system is designed and installed by a trusted wine cabinets cooling system contractor.
Additionally, the cooling unit must be of the right quality and size. Working with a contractor that understands how to determine the right type, size, and brand for your wine cabinet is essential!
Installing a poor quality and undersized wine cabinet refrigeration unit can lead to poor performance and costly damage down the line, as demonstrated by this recently completed Beverly Hills replacement and re-installation.
Final Steps to Wine Cabinet Cooling System Fix
The wine cellar cooling installation also involved charging the system with Freon, which is a cooling agent used in air conditioning systems.
Lastly, Mario conducted a cooling system pressure test.  The pressure reading is designed to check for internal and external leaks, as well as ensure that the unit can handle the pressure specified by the wine cabinet's cooling systems manufacturer.
Finding the Best Cooling Unit for Your Home System
In this project, the wine cabinets are located in the living room area of the home.  M & M Cellar Systems replaced the existing climate control system with an HS 6600 split wine cabinets cooling systems from US Cellar Systems.  A split system is divided into two separate components.  The first component of the cooling unit contains the evaporator coil, while the second component includes the compressor, coil, and condensing fan.
Why Split System?
Splitting the cooling system in half provides installation flexibility, as well as efficient performance and ultra-quiet operation.  Split wine cabinets cooling units are available in ducted and ductless options.
When to Go Ducted or Ductless
Ducted cooling units make use of duct work to distribute cool air into the wine storage space, and to exhaust warm air to the outdoors.
Ductless cooling systems, on the other hand, use a line set to connect the evaporator unit to the compressor.
Choosing between these two options depends greatly on the configuration of the rooms involved in the construction. This is where you definitely want to consult with a company like M&M, to help guide you through this important decision.
Wine Cabinet Cooling Unit Fixed!
The Beverly Hills wine cellar cooling installation project was a success.  M & M Cellar Systems made sure that the right-sized cooling system was installed for reliable cooling and efficient performance.  The wine cabinets now works properly; the clients couldn't be happier.
Choose M&M Cellar Systems in Southern California
We at M & M Cellar Systems offer a wide range of wine cellar refrigeration solutions for various applications, from small wine cabinets to large commercial wine displays.  We pride ourselves in providing exceptional customer service and quality workmanship. Contact us today to see how we can help with your wine cellar.
Whether you live in Beverly Hills, Los Angeles, or Orange County, M & M Cellar Systems will be the right contractor to choose when building a wine cellar or cabinet cooling system. We often work with wine cellar builders, commercial developers, and private home owners, in order to provide the best cooling option, creating the ideal wine storage environment for your home or business.
Check out more photos of the wine cellar cooling installation Beverly Hills project below: