Failure to control the environment of your wine cellar will damage your collection. To ensure that your prized wines are safe for many years to come, you must work with a wine cellar refrigeration expert in Los Angeles, California. At M&M Cellar Systems, we specialize in HVAC cooling and heating installation and servicing. Learn more about what we do.
M&M Cellar Systems: Ready to Provide Efficient Wine Cellar Refrigeration Services
The heart of any stable residential custom wine cellar or commercial wine display is its climate control system. Working with the wrong wine cellar refrigeration company will cause more serious problems and a significant expense in the future.
The climate control system is comprised of several key elements. These include components not always considered at first glance:
The wine cellar door
Insulation in the walls
Vapor barrier in the walls
Lighting
And finally the wine cellar refrigeration system itself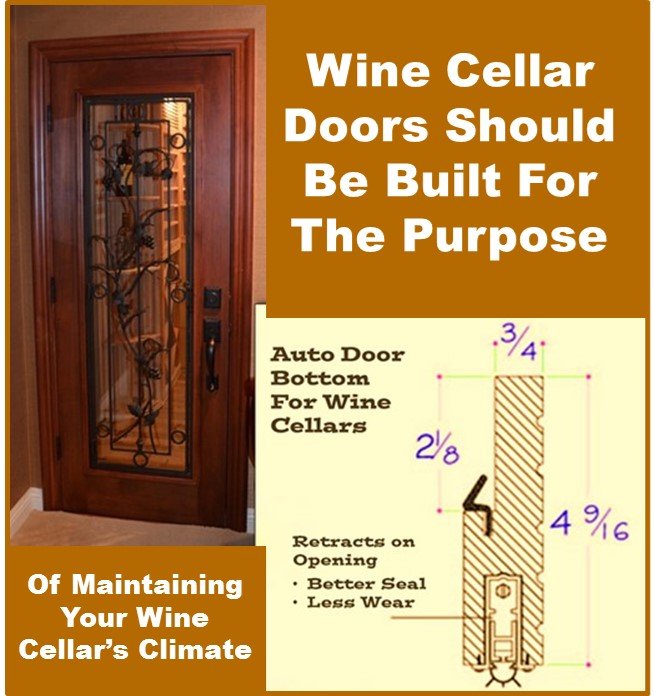 Should any one of these elements be missing or incorrectly installed, horrible problems can ensue.
Remember wine is typically stored for very long periods.  Over these long periods, poorly insulated wine rooms cause the cooling unit to run far too much.  This over running, beyond the design specification, can result in premature breakdown.
Breakdowns like this will of course happen while you are away and in the hottest time of the year.  This can ruin a wine collection, resulting in hundreds of thousands of dollars in damage.
An HVAC Specialist with Extensive Experience
At M&M Cellar Systems, we specialize in wine cellar refrigeration. We provide installations and repair services, and sell wine cellar cooling equipment for homeowners, wine cellar dealers, contractors, and builders. We don't do standard air conditioning for homes, commercial establishments, walk-in freezers, or refrigerators.
Mario Morales, the owner and lead technician, has more than 20 years of experience in wine cellar refrigeration in Orange County, in the city of Irvine and in Los Angeles County. He is knowledgeable in installing, repairing, and maintaining various types of wine cooling equipment including LRC, WhisprKOOL, Vinotemp, Wine Guardian, and CellarPro. Our team provides exceptional custom service and innovative wine cooling solutions.
Our Primary Customers in Wine Cellar Refrigeration
Our primary customers are homeowners. However, we also offer services for commercial applications, from restaurants to warehouse rental spaces, or facilities that rent lockers, and for those who have a wine collection that they could not store in their home.
Understanding home and commercial building codes is an important skill, and M&M Cellar Systems has it. Servicing varies in home and commercial settings. Regular servicing is the consistent maintenance that protects your wine cellar cooling unit.
What's the Difference Between Residential and Commercial Wine Cellar Refrigeration?
There is no difference between wine cellar refrigeration for residential and commercial applications. The temperature is the main concern.
Since each cellar vary in location, our team has to determine the specific temperature range that we need to achieve for the wine room. To be able to do this, we need to know how the wine cellar will be constructed, what materials are going to be used, and the R-values of those materials. Doing so will help us determine the right equipment for a specific application during the installation.
One of our bigger projects that we completed was in a restaurant in the Fashion Island District in OC, Newport. We provided the wine cooling equipment for their wine cellar. As a standard procedure, we calculated the heat load before choosing the ideal type of cooling system for the wine room.
Effect of Using the Wrong Size Wine Refrigeration Unit
We don't just install any size of cooling equipment. How do we determine the correct size of refrigeration system for a wine cellar? We ask the client whether the room is going to be a storage display type of wine cellar or a walk-in wine cellar.
Doing so helps us choose the correct size and capacity of the cooling unit, enough to allow for the extra run time that the system will be going through.
Is there a downside of over sizing the equipment? Yes. Typically, there will be high humidity in the wine cellar because an oversize equipment will not give us enough running time to cool the wine cellar. When it cools it down so fast, the humidity will be too high. Running into a situation like this can be detrimental to wine.
Nationwide Product Supply
At M&M Cellar Systems we supply the best quality products nationwide.  We leverage our years of installation and servicing experience to provide the right advice when designing a wine cellar's climate control system.
Los Angeles Based Service
In and around the Los Angeles area we also provide installation services, maintenance plans and ad hoc servicing of all major brands of cooling systems.
Whatever your servicing and installation needs are, M&M Cellar Systems will cater to your needs. Don't hesitate to contact us +1 (323) 578-3330.